ABOUT
3MIX
Firm Profile
Delivering Value through Collaboration and Strategic Partnership
3MIX is a firm that specializes in Architecture, Planning and Interior Design with an established reputation for providing state of the art retail and mixed-use design expertise to a global clientele since 2016.

In the words of the CEO of 3MIX Architecture, Yan Yang: "our core leaders have been partners working together for over 20 years in the leading global design firm Callison, where we were responsible for countless successful projects in the US, China, and the rest of Asia. We have an invaluable global perspective as well as local knowledge and experience and possess an intimate understanding of the needs of the Chinese market, clientele, and users at large."
Led by this accomplished core leadership group and supported by a group of energetic and talented team leaders with distinguished experience and knowledge, 3MIX continues to collaborate with eminent respected industry leaders on some of the most prestigious, exciting, and challenging retail and mixed-use developments in China.
The firm's fundamental principles - its "DNA" - of Design Innovation, Business Acumen and Collaboration, its unique, globally minded and technologically relevant understanding of design allows it to excel in the everchanging complexities of urban development in
the contemporary context. Based in Shanghai, 3MIX's growing momentum and strong potential is a testament to its clientele's confidence in the firm's unprecedented ability to undertake any typology under the commercial umbrella and deliver speedy and innovative solutions that are well thought out, business sensitive, and sustainable. The firm's bases in China and the US clearly articulate a global outlook and a forward-looking agenda of personal service, innovation, and proven experience.
The firm's current work includes a variety of projects that encompass mixed-use, retail and entertainment, residential, office, hospitality, and tall buildings. At present, 3MIX has focused its work in China, with potential opportunities in other global markets like the US, the Middle East, and South Asia. Completed works are identified under the core leadership's bios, and include projects designed and built under the direction of the individual partners while at their previous affiliations. New commissions and projects in various design stages reinforce the firm's outlook and dedication to creating new urban environments of the future.
Vision
Stay focused and excel in what you do best
The vision of 3MIX is to be focused on what we do best – globally acclaimed commercial design, and to continuously pursue simplicity, innovation, and performance of the built environment.
Leadership
All for one and one for all
The 3MIX leadership consists of partners and an experienced group of Directors, Senior Designers and Project Managers, each contributing a wealth of expertise and experience in the design and construction of buildings with varied typologies and urban environments. These include projects that range from large scale Master Planning to intimate details of interior environments. The four partners and their teams of experienced professionals are fully engaged in design, operations, management, and business development, and lead the firm's growth while continuously stressing innovation and excellence.
Purpose
The can-do approach
3MIX firmly believes in using design as a tool to create environments that are not only profitable, but also refreshing, unexpected, and sustainable. To that extent, the firm's design philosophies are based on business sensibilities, multi-disciplinary collaboration, and the continuous pursuit of creating smart and beautiful buildings and environments. A key aspect of the firm's success is its ability to rapidly crystallize new ideas and client aspirations into concrete solutions and business strategies while continuing to enhance and develop these inspirations into striking products with attention to minute details of constructability. A tenet that has served the firm well is the constant desire to be an industry leader, as demonstrated by its visionary leadership and ability to stay at the cutting edge of global commercial design.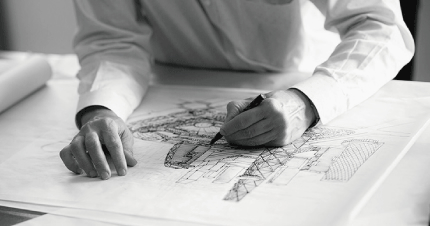 Process
Quick, innovative, explorative and targeted
3MIX prides itself on its ability to carefully listen to clients' visions, and produce innovative ideas within extremely condensed time frames while pushing stakeholders to explore out of the box options. 3MIX has a distinctive capacity for flexibility, offering an involved, real-time design process that employs a variety of techniques and practices. These range from blue-sky discussions of possibilities, intense "charrette" sessions, quick 3D simulations in hand-drawn, mock-up, and parametric formats, and benchmarking studies.
Most importantly, the process is carried out with a strong emphasis on effective communication, both verbal and graphic, that conveys ideas with clarity, applying an exhaustive design vocabulary to present multiple options that are both profound and tempered by reality and pragmatism.